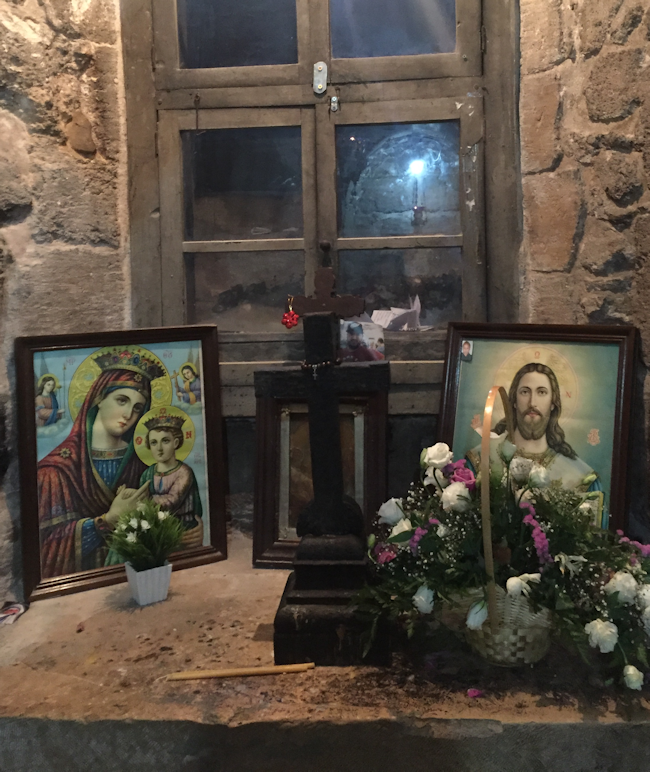 One of the misconceptions about the Nine First Fridays devotion and the Five First Saturdays devotion is that once you complete the requirements, they can be fondly tucked away and no longer something to bother with. Sure you may encourage friends and family to do them, but once they're done, you're done.
I don't believe that's the fullest way we can embrace these devotions or what was intended when they were first given to us. Yes, if you fulfill the minimum required, you're good to go and the promises will be graciously applied to you as Our Lord and His Blessed Mother promised. But don't you think one of the fruits of both devotions is to ingrain a "habit" or "internal schedule" that they are calling us to? Once you've completed them, each future First Friday and First Saturday will tug at your heart, calling you to Mass to offer up reparation as requested. Why shut those tugs down and ignore them? Continue responding to them and now you are doing it out of love and to please Jesus and Mary, to continue making reparation, not for the motivation of receiving special graces (though you surely will).
Month after month, year after year, you will develop an inner steadfastness that dictates you set aside time for Mass on these days (and Confession as well to ensure you are in a state of grace), becoming two days every month where everything else happening is scheduled around them. They become a priority for you.
Why continue if we don't really have to? Our hearts have softened with a love for Jesus and Mary and when you love someone, you naturally want to please them. Clearly First Fridays and First Saturdays are special to Our Lord and His Blessed Mother since they sparked these devotions in miraculous and amazing ways. They wanted to make sure they had our attention. And clearly they do indeed make reparation when performed sincerely with devotion. Our culture and society have degraded and are slipping deeper and darker at record speed. Reparation is necessary and urgent, we know this. It's easy to see that if we, each of us, are effectively making reparation…then the world as a whole will benefit. Don't we all desire world peace? End of war? End of depravity? This is one way we are called to help.
Some modern Catholics say that these are tired old devotions that our grandmothers clung to in their uneducated, peasant pieties. Ahem. Not so. In the Papal Encyclical MISERENTISSIMUS REDEMPTOR (Reparation to the Sacred Heart), Pope Pius XI wrote in the year 1928 (less than one hundred years ago):
It is no wonder, therefore, that Our Predecessors have constantly defended this most approved form of devotion from the censures of calumniators, and have extolled it with high praise and promoted it very zealously, as the needs of time and circumstance demanded. Moreover, by the inspiration of God's grace, it has come to pass that the pious devotion of the faithful towards the Most Sacred Heart of Jesus has made great increase in the course of time; hence pious confraternities to promote the worship of the Divine Heart are everywhere erected, hence too the custom of receiving Holy Communion on the first Friday of every month at the desire of Christ Jesus, a custom which now prevails everywhere.
How could something so strongly encouraged by previous Popes, Saints and other holy people not be all that interesting or worthwhile doing nowadays? Do efficacious devotions eventually just flame out and expire? No.
If you have troubled relationships or hardships of some sort in your home life, I especially encourage you to perform these two devotions with a humble, faithful heart. Do them every month for a year and assess the fruits. I myself have seen a marked difference in certain areas of my life and in myself, I'm convinced it's because of the promises kept due to performing these devotions to the best of my abilities.
Printable Tracking Chart: To help keep you on track, I've designed a printable wallet card that you can download. One page tracks all the First Fridays you were able to do, the other page tracks First Saturdays. A brief description of the requirements is at the bottom of each checklist.
You can download it for free here: First Friday & First Saturday Tracker or just click the image on the right to grab the pdf. The document is two pages long (though the card itself is small and will tuck neatly inside most planners and wallets).
Please note the instructions on the back cover for distributing among friends and on the internet…you are free to print as many as you like or upload to your social media accounts to distribute, but they must be given at no cost and unchanged.
For those of you who are unfamiliar with what these two devotions are and how to properly do them, I'll outline the requirements and promises below. After reading all the information provided, I'm confident you'll come to the same conclusion I have: that we have nothing to lose by doing them and so much to gain by continuing them month after month, year after year, even after fulfilling the requirements. Let's see what happens.
Something Curious to Note: It never seems to fail that First Fridays and First Saturdays have severe weather rolling through (ie. snowstorms, thunderstorms, heavy rain) or some sort of personal "emergency" or urgent matter that pops up unexpectedly to distract you or try to prevent you from going to Mass on these days. Or maybe it's something pleasant that tempts and distracts you, or sudden aches, pains and tiredness. It almost always happens to me. Push through, go to Mass as intended, and all is well. Curious, no?
Nine First Fridays Devotion
St. Margaret Mary Alacoque (1647 – 1690) was instructed by Jesus (who appeared to her many times) to spread this devotion to His Most Sacred Heart. It has been approved and encouraged by Holy Mother Church and has been time tested with many Saints and devout Catholics praising its efficaciousness throughout the centuries. This ticks all the boxes as a genuine, Divinely inspired devotion.
First, here are the conditions to fulfill the requirements to obtain the graces Jesus promised…
With the intention of making reparation to the Sacred Heart of Jesus for all the sinfulness and ingratitude of men, devotees will…

On nine consecutive First Fridays of the month, receive Holy Communion while in the state of grace.
That's it! That's all that's required…simply go to Mass on each First Friday of the month and receive Holy Communion to make reparation as noted above (only if you're in a state of grace…meaning you've recently made a sincere and complete Confession and haven't committed grave sins since your last Confession).
The Great Promises Our Lord Made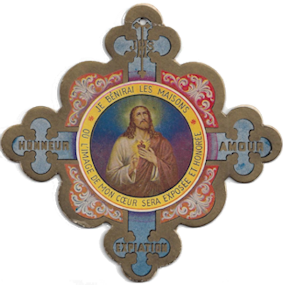 I will give them all the graces necessary for their state of life.
I will give peace in their families.
I will console them in all their troubles.
They shall find in My Heart an assured refuge during life and especially at the hour of death.
I will pour abundant blessings on all their undertakings.
Sinners shall find in My Heart the source and infinite ocean of mercy.
Tepid souls shall become fervent.
Fervent souls shall speedily rise to great perfection.
I will bless the homes in which the image of My Sacred Heart shall be exposed and honored.
I will give to priests the power to touch the most hardened hearts.
Those who propogate this devotion shall have their name written in My Heart, and it shall never be effaced.
The all-powerful love of My Heart will grant to all those who shall receive Communion on the First Friday of nine consecutive months the grace of final repentance; they shall not die under My displeasure, nor without receiving their Sacraments; My Divine Heart shall be their assured refuge at that last hour.
When Our Lord makes an extraordinary effort such as this to encourage each of us to this devotion, I think it's wise to pay attention and do as He requests, yes?
The Five First Saturdays Devotion
This is another devotion that has been approved by the Church. It originates from instructions received by Sister Lucia of Fatima from the Blessed Virgin Mary herself in 1925. Our dear Lady said:
"Look, my daughter, at my Heart encircled by these thorns with which men pierce it at every moment by their blasphemies and ingratitude. You, at least, strive to console me, and so I announce: I promise to assist at the hour of death with the grace necessary for salvation all those who, with the intention of making reparation to me, will, on the first Saturday of five consecutive months, go to Confession, receive Holy Communion, say five decades of the beads, and keep me company for fifteen minutes while meditating on the fifteen mysteries of the Rosary."
There are times we hear on the news of Marian statues being desecrated or destroyed, or rabid men and women spewing hateful rage against the Blessed Virgin during marches protesting something or other (usually against the Church or Pro-Life efforts), this is the sort of thing we make reparation for when we do the Five First Saturdays devotion.
How to Fulfill The Requirements:
On the first Saturday of five consecutive months, perform the requirements below with the intention of making reparation for all the sins and offenses commited against the Immaculate Heart of Mary…
Make a good Confession
Receive Holy Communion
Pray 5 decades of the Holy Rosary
Keep Our Lady company by meditating for 15 minutes on the mysteries of the Rosary
Promises:
The Virgin Mary promises to assist us at the hour of our death with the graces necessary for salvation. This doesn't guarantee salvation, but ensures that we will be given all that we need for salvation. It will still be up to us to humble ourselves with true repentance and embrace the graces made available to us by Our Blessed Mother.
Questions:
Can we make a good Confession on another day? Sr. Lucia asked the child Jesus this question in 1926 when He came to visit her and she asked if we could have 8 days in order to fulfill this request. His response: "Yes, even more time still, as long as they receive Me in the state of grace and have the intention of making reparation to the Immaculate Heart of Mary."
We don't have Saturday morning Mass at my Parish, does Saturday evening Mass count? Answer from the World Apostolate of Fatima: Saturday is a twenty-four hour period of time which begins and ends at midnight. A Communion of Reparation received during any Mass [or outside Mass] between midnight and midnight is received on Saturday, thereby fulfilling the Communion requirement. Source: World Apostolate of Fatima (pdf booklet).
Does the time praying 5 decades of the rosary count towards the 15 minutes meditating on the rosary mysteries? No, the 15 minutes is over and above (this was confirmed by Sister Lucia and the Bishop of Fatima).
Can I meditate on just one mystery for 15 minutes, or do I have to meditate on all? The meditation embraces one or more mysteries; it may even include all, taken together or separately, according to individual attraction or devotion; but it is preferable to meditate on one mystery each month.
I forgot to form the intention of making reparation to the Immaculate Heart of Mary but did all that was required. Do my efforts still count? On the occasion of the visit of the Child Jesus to Sr. Lucia (Feb. 16, 1926), she asked: "My Jesus, what about those who forget to make the intention?" Jesus answered: "They can do so at their next Confession, taking advantage of their first opportunity to go to Confession."
What's so special about Saturdays, why not another day of the week? For Catholics Saturdays are a special day to honor Mary. She alone remained steadfast in her Faith on the First Holy Saturday (between the Crucifixion and Our Lord's Resurrection) that Jesus would rise again as He said. This devotion dovetails nicely with the long held tradition of setting aside Saturdays for Our Lady that has been practiced for over a thousand years by both clergy and laity.
Why five consecutive Saturdays? Why not some other random amount? Our Blessed Lord answered that question when He appeared to Sr. Lucia in 1930. He explained that it was because of five kinds of offenses and blasphemies against the Immaculate Heart of Mary, namely: blasphemies against her Immaculate Conception, against her perpetual virginity, against the divine and spiritual maternity of Mary, blasphemies involving the rejection and dishonoring of her images, and the neglect of implanting in the hearts of children a knowledge and love of this Immaculate Mother.
I've completed the Five First Saturdays for myself, can I now do them on behalf of a loved one? I haven't found a definitive yes or no from a trustworthy source but I myself have done this for those in my family. Best case scenario: Yes, the graces will be given to them by Our Lady. If not, since they were performed sincerely and with love, "something" will be provided.
I found some of the answers listed above on this page and found it a helpful source: Rosary Center & Confraternity (Dominican Friars of the Province of the Most Holy Name of Jesus).