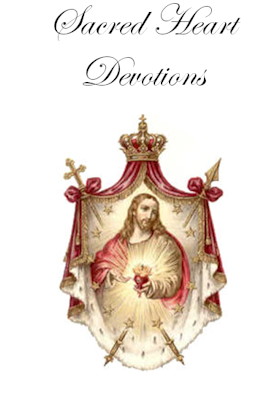 May the Sacred Heart of Jesus
be loved in every place

Last year I wanted to donate a bunch of pamphlets to my parish for Sacred Heart devotions (to give away during the month of June) but I couldn't find anything that checked all the boxes for me. In the end I designed my own tri fold pamphlet, printed up a bunch and with the Priest's permission, left them in the Church for anyone who wanted to pick one up to read at home or hand out to friends.
This year I updated the format and printed a batch off to give to another local group to distribute. I realized there might be a few more folks interested in handing out these pamphlets so I thought I'd upload them here for anyone interested.
They're ideal for year-round distribution but especially nice to have available for parishioners during the month of June (which is devoted to the Sacred Heart).
Devotions included:
Litany of the Sacred Heart of Jesus
Prayer of Trust in the Sacred Heart
Act of Consecration
Prayer for Perseverance (by St. Alphonsus Liguori)
The 12 First Friday Devotion Promises
Download your copy here (pdf): SH Tri Fold Brochure (or click image to the right).
Printing Instructions:
–Print on both sides of paper, flip on short edge.
–These are designed to print in color but black & white turns out nice too.
Folding Instructions:
Once properly folded, the image of Jesus will be on the cover and the back will be the 1st Friday Promises information. I found a video on Youtube that shows how to fold them here: Youtube .
Distribution Rights: You are free to print off and distribute as many as you like or upload them online to share with your friends (social media, blogs, it's all OK). I only ask that you give them away for free and don't make any changes to the copy.
St. Alphonsus:
One thing that this Doctor of the Church strongly encouraged was to frequently pray to Our Lord asking for the gift of final perseverance. When I found this prayer he wrote that was directed to the Sacred Heart…I just knew it had to be included in this pamphlet. I've never seen this before in other materials and I think in these times especially, it's so important.
If you decide to print off a few dozen and hand them out, may God bless you! Please make sure it's fine with your Priest first. We need to keep these special devotions alive and this one is especially important (and so fruitful).