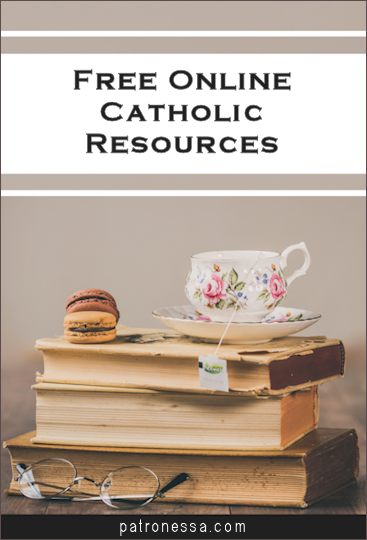 Scripture
New American Bible: An online reference hosted on the Vatican site, New American Bible translation.
Douay-Rheims Bible + Challoner Notes
Bible Study Evangelista: This is an online series presented by Sonja Corbitt, mainly in podcast form. Much of what she has to offer is available for free though some episode series do require paid membership. I quite enjoy her series and talks and she really encourages daily Scripture prayer and study (Lectio Divina).
Bible Commentary Books: This page contains Bible commentaries available from the fathers of the Coptic Orthodox Church in both English and Arabic. Although not strictly a Roman Catholic source, these are compilations of the teachings from the early Church Fathers (before there was a break) so these are still an excellent resource that are reliable and true to the Faith. All are available in large volumes to print (pdf downloads).
Mass
Weekday Lectionary: Weekday A, Weekday B and Daily Readings. These are nice to print off for following daily Mass (Canada so there's an occasional difference from U.S.), but also to use for Lectio Divina. Provided by the Canadian Conference of Catholic Bishops.
Liturgical Calendar (Canada): Free pdf download for the whole year, provided by the Canadian Conference of Catholic Bishops.
Liturgical Calendar (U.S.): This pdf download is provided for the United States Diocese (USCCB).
Rosary
Rosary Confraternity: The Rosary Confraternity is a spiritual association of the Catholic Church, the members of which strive to pray the entire Rosary during the course of one week. Whenever a person fulfills her obligation of reciting the Rosary according to the rules of the Confraternity, she includes in her intention all its members, and they in turn render to her the same service many times over. Established by the Dominican Friars of the Western Province.
Scriptural Rosary (pdf download): A free booklet distributed by the Knights of Columbus with their "Building the Domestic Church" series. Offers a scripture snippet to meditate on for each Hail Mary in each decade of the rosary. All mysteries are included (Joyful, Luminous, Sorrowful, Glorious) including instructions for how to pray the rosary for beginners.
How To Pray The Rosary (Pamphlet): Free printable pamphlet in pdf format from Our Sunday Visitor. Includes a diagram on what to pray on the beads and the Fatima Prayer prayed after each decade.
Church Teachings
Catechism of the Catholic Church: A summary of the Faith, every Catholic should have a printed copy of this in their homes but here is an easy online reference when wanting to look something up quickly.
Papal Encyclicals: A great treasure trove of Papal and other official documents (including Church Councils) of the Catholic Church that is run by a layman (who asks for prayers rather than donations to keep the site running). Also see the Vatican site here, though it's surprisingly not as complete.