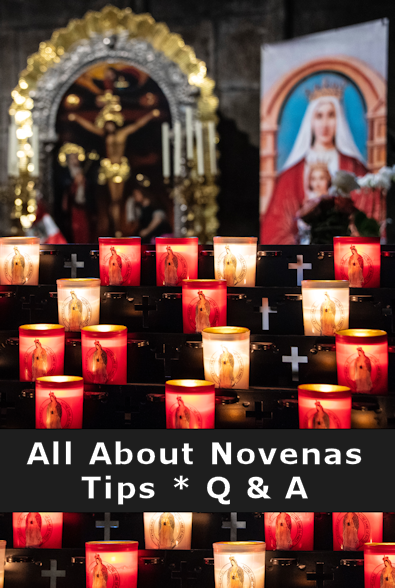 I'm a big proponent of Novenas, not only because I believe they are an effective way to present petitions to Our Lord but also because I can see the value they have in developing a disciplined prayer life. It's easier to shrug off prayers for a day or two when you have nothing holding you to it, but with a novena it's different. When you're on Day 3 or 4, it's not so easy to quit and give up just so you have to start at Day 1 all over again.
Will you find the specific word "novena" in Holy Scripture? No. The word "Novena" comes from the Latin "novem" which means "nine". Will you find a concrete example in the Bible of the earliest Christians praying a novena? Yes.
Early Christians noticed what happened when the Apostles and first disciples gathered in the Upper Room at Jerusalem waiting and praying (after being directed to do so by Jesus when He ascended into Heaven). After praying for nine days, the tenth day arose and the Holy Spirit descended on all those who were gathered there (the Blessed Virgin Mary, the Apostles, the first disciples of Christ). We call this event "Pentecost". The nine days sandwiched in between the day Jesus ascended into Heaven and the day the first Christians were filled with the Holy Spirit are the nine powerful days of prayer we base novenas on.
"When the time for Pentecost was fulfilled, they were all in one place together. And suddenly there came from the sky a noise like a strong driving wind, and it filled the entire house in which they were. Then there appeared to them tongues as of fire, which parted and came to rest on each one of them. And they were all filled with the Holy Spirit and began to speak in different tongues, as the Spirit enabled them to proclaim." (Acts 2:1-4)
Not only did something incredible and new happen in the Church, Peter and the Apostles, now filled with the Holy Spirit, came out and addressed the crowd who had gathered outside to find out what was happening…Peter then passed the Faith onto another 3,000 people who were baptized right then and there.
Those who believed what Peter said were baptized and added to the church that day – about 3,000 in all. (Acts 2:41)
When you are searching for an explanation of why Catholics pray novenas and why we believe they are so effective, there is no better example or reason than the one given above…The Apostles prayed a novena, which was inspired by Jesus Himself, and were given a most marvelous gift in response: The Holy Spirit descended upon them. With this gift they in turn were able to bless those around them. Now that's a big response from God to prayer!
We pray novenas at any time of the year but especially around Feast days and special anniversaries in our personal lives (such as the death of a loved one, someone's birthday, a son's day of ordination, etc.). They can also be prayed with no particular date in mind but for something serious or great urgency that we are asking from God (say a successful surgery, healing, financial help, etc.). We can even pray them in Thanksgiving to God for favors received.
Typically the format is this: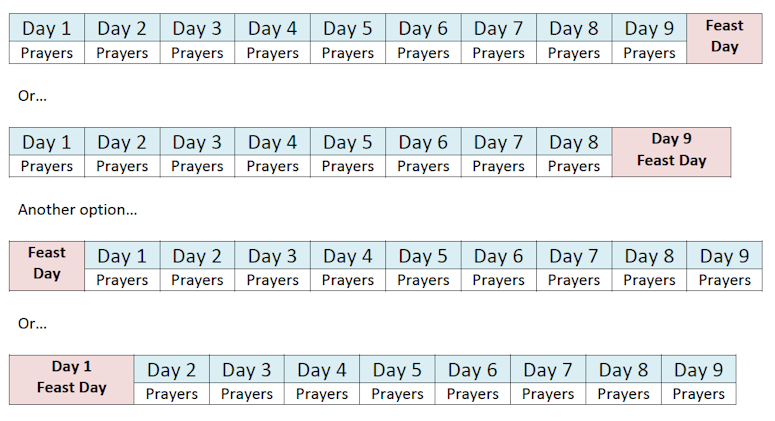 The first example is the closest to tradition and copies what the Apostles did…they prayed for 9 consecutive days and on the 10th, the gift of the Holy Spirit was received. All of the examples above are valid timelines for praying novenas, in fact, you can mix it up however you want (ie. a Feast day in the middle of the 9 days)…this isn't something superstitious where you have to do X, Y and Z exactly right at the exact right time or *poof*, all chances of the prayer request being granted are null and void.
The purpose of the novena is to focus on a particular need or desire to present to God in a faithful, intentional way. Many, many times we pray for things carelessly and without passion or fervor…we shouldn't be surprised then when God doesn't give us what we ask for. A novena forces us to intentionally set aside time each and every day to lock in and focus then approach God with a particular need. We wouldn't do that day after day unless it was for something special, something we truly longed for.
Q & A
(my personal rules of thumb only, based on research and practice…not legalise)
What constitutes the timeline of each Day? I try to say my prayers within the midnight to midnight time slot. Technically if I pray Day 5's prayers after midnight (rolling into Day 6), that would be Day 6. Does that mean the novena's chances of a positive response from God are shot? Not at all, if something happened that I couldn't say my prayers until after midnight, I do so and keep rolling on with my prayers the following days as planned. Again, this isn't some sort of voodoo where the moonlight has to be just right and the stars aligned just so or everything's game over. You do take it seriously, you do the best you can as faithfully as you can.
Is there a source of approved prayers to use in Novenas? I stick with novenas that are in old Catholic prayer books that have the imprimatur somewhere on the inside front pages of the book. These contain prayers that have been either approved by local Bishops or encouraged by the popes to pray. Many are written by Saints and tradition bears them out. The reason why I hesitate to pray more contemporary novenas found on the internet is because they haven't been vetted in the same way. Maybe they contain a slight theological error that goes unnoticed by the average Catholic. Maybe they are being promoted by a source or agenda that we don't initially perceive. I personally prefer to stick with what works and what the Church herself has embraced. For recently published prayer books, TAN publishers is a trustworthy source. An old favorite of mine is the Raccolta (used copies can be found and I believe a Catholic publisher has recently reprinted this). New reprints of Fr. Lawrence Lavasick's collections can be found on Amazon. You can find many old booklets and pamphlets containing Novenas on eBay, these are usually safe. The oldie but goodie "Blessed Be God" prayer book contains some treasured novenas too.
Is there something else I can do to increase the chances of my prayers being heard? Look, God hears your prayers whether they are half-hearted, done sleepily, or even tossed carelessly around. But the more we pray with fervor and love and trust, the more "fuel" gets into the request, you know what I mean? Here are some things I really watch for when praying novenas…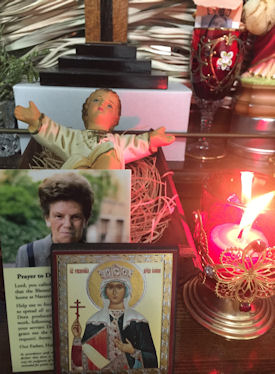 Almsgiving: I try my best to keep a $5 bill in my wallet at all times, but especially during novenas. I can go weeks and weeks without someone asking me for money but when I start praying novenas, BOOM…here come the requests. And I happily give…I give unquestioningly and willingly and even thankfully because I know that this is a sign of favor from God.
Fasting: If I'm in a desperate situation, fasting is like putting the pedal to the metal. I'm hungry. I'm constantly being tempted to snack or nibble before the one small daily meal I allow myself, but refuse to. I offer this misery up to God along with my prayers (but let's face it, it's not a true misery, just discomfort). This helps me form my whole day around my prayer intention, I live, breathe and am aware of this intention all day long because my discomfort is a constant reminder. Instead of dwelling and obsessing around my prayer request, it reminds me to constantly lift this up to God.
Self-Denial: Along the same line as Fasting above, self-denial would be nine whole days of giving up TV, internet, air-conditioning, desserts, whatever it is you have decided to give up. This is like pouring gasoline on the flame of your prayers, lifting them higher up to God.
Saints & Feast Days: Incorporating a Saint's Feast Day or a special Solemnity is another way to add more fuel to the fire, you are now recruiting a Saint in Heaven to help with your prayer request. God loves His Saints and it pleases Him when we trust our brothers and sisters in Heaven enough to approach them and ask them to help us. Or if we're praying a novena around a Dogma such as the Immaculate Conception, we are pleasing God by recognizing and honoring this very special Truth that He has revealed to us.
Lighting Candles: Something I like to do during a novena is light a candle before daily Mass (if possible). It's not as common nowadays, unfortunately, but some Churches do still have candles underneath an icon of the Blessed Virgin Mary (notice she was with the Apostles on Pentecost). We all know what a powerful advocate she is and whether the novena is arranged around one of her Feast Days or not is ok, her hands are always open to receive our petitions and present to Our Lord. Another thing I like to do is light a candle on my home altar, I'll prop up an icon or prayer card of the Saint I'm including or light it underneath an icon or statue of Our Lord or Our Lady. The belief is that while the flame is lit, your prayer is ever before them.
Go to Confession: The best way to have a clear, strong voice during times of prayer and eyes that can see and ears that can hear is to start off with a good, sincere Confession. Wipe the slate clean, unplug the ears so you can hear and see what the Lord may be trying to teach you or tell you during this time of prayer.
Offer up the petitions during daily Mass: Try to go to daily Mass during a novena, you should be able to find something suitable to your schedule if you live in a city (either morning or evening Mass). I do this during the Consecration, I'll prayerfully place my intentions in the chalice as the Priest lifts it up. Or I may lift up my prayer intentions right before I receive Holy Communion. Either of these methods will bring your novena requests into the Mass.
Isn't all this just trying to manipulate God into giving us what we want? No, God's in charge always, we can't bamboozle Him. He doesn't say, "well she's checked this box and that box and that box so now I guess I have to go against my judgement and give her what she wants." But what's happening is that we are showing our Dear Father how much this means to us. He isn't going to give us something that is bad for us no matter how often or how hard we pray, but He works in us during the process of our prayers. He may have decided from the very beginning He was going to give us the gift we are asking for but wants us to work at it for some reason. In fact, the desire to turn to God and ask Him for the gift we are asking for likely CAME FROM HIM in the first place. Chew on that for a minute, it's a tear jerker. It pleases Him when we persevere in prayer.
The Bible doesn't instruct us to pray Novenas, isn't this man-made superstition? As Catholics we don't look to Holy Scriptures only, we also cling to the traditions that the first Christians (led by the Apostles) passed on to us. Keep in mind that the Bible wasn't really formalized until around the 5th Century…what did the early Christians do before then? That's a whopping 400 to 500 years after Christ died. Answer: they held onto what the Apostles and their descendents taught them. That's called Tradition, something that the Catholic Church holds close and refuses to dismiss.
The example of praying novenas are a gift to us from the earliest Christians, I for one am happy to embrace them…and I thank Our Dear Lord for them because I do believe they please Him too.