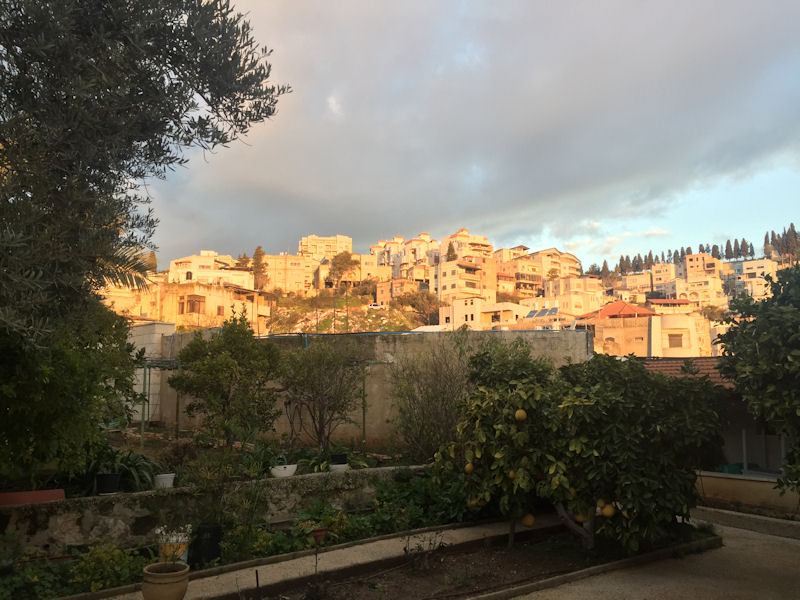 I can't believe I'm able to say this but…I was so blessed to be able to go on pilgrimage to the Holy Land last month (January, 2019). In fact it took me a day or two after landing in Israel to finally believe that yes, I was actually given such a great gift as this. For months leading up to the trip I was so excited and planned and prepared and shopped and packed and unpacked, trying to figure out what I needed to bring and what I could do without.
Israel in the month of January is a mixed bag in terms of weather, it could be wet, or warm, or even snow! So we had to be prepared for everything. The problem is that airlines nowadays want to keep things tight and light, and if you're over their limits even a smidge (dimensions and/or weight)…you pay a steep price.
Considering I overspent, bought and packed anything and everything I could possibly need, I feel I can now give you a really great list of must-have items to bring with you. Much of this is from a female perspective 🙂
Clothing
I won't delve too deeply into this area but I would suggest packing 1 pair of pants for every two days of touring (I wore cotton/twill ankle length but capris past the knees would work too). Also pack 1 knit or cotton top for every two days of touring (sleeves past the elbows) with a modest neckline. I packed ankle compression socks, 1 pair per touring day, and had zero trouble with pain or swelling, never had a blister either. Shoes: I wore Crocs (LiteRide) and also brought Saucony Women's Kineta Relay Running Shoes since I find them nice and light, but didn't end up wearing them since the Crocs wore so well and I didn't need to switch out shoes to avoid blisters. I packed a nylon raincoat that had enough room for me to wear a sweater or fleece vest underneath. I packed a pair of comfy knit pants to wear back in the room at night with a couple comfy knit tops. Fuzzy socks to wear back in the room in case it was cool (with non-slip dots on the bottom), plus a pair of slippers and sandals to wear in the room (though only one is necessary). Pajamas and lots of underwear of course. I brought a fleece vest that I wore most of the time and it did just the trick for cooler mornings.
Currency

For a 9-Day Pilgrimage I brought $900 U.S. (converted to 2,300 Israeli New Shekels here in Canada). I set aside $500 Canadian in a separate bank account (Simplii Financial) and planned on using that as backup (debit) if needed. I didn't need it and it's a good thing too, I don't think my debit card would have worked in Israel since our tour guide told us Israel accepts Canada's top 5 banks only (TD; Scotiabank; Royal Bank; CIBC; Bank of Montreal). I spent my last shekel on the last evening of our stay and only put about $60 U.S. on my credit card.
All meals were covered on the trip (breakfast, lunch, dinner) so everything I spent was on souvenirs, gifts, donations to the various holy sites, financial gift to Priest who organized the pilgrimage and a bit to locals who approached asking for money (not many). I shouldn't have bothered buying the shekels in Canada since most places were happy with U.S. dollars. I traveled with folks who brought only $500 U.S. and they came home with money (not as big into shopping as I was).
The young man in the picture to the right was such a delight that there weren't many in our group who could refuse to buy his postcards (a full set for just a dollar). His marketing skills and sparkling personality won the day! May God bless him.
Bags
I brought a fair sized canvas crossbody bag to carry with me while out and about plus I kept a tote bag on the tour bus to hold a water bottle, coffee thermos, extra sweater, sunglasses, Kleenex packs, toilet paper, etc. I wore a neck wallet to carry cash plus I had an extra pocket sewn on the inside of my pants to secretly carry money. Israel was really safe and didn't have a problem so this was probably overkill.
Day-to-Day Needs for Bus Tote
The bathrooms in Israel are mostly good, but some are pretty shady. For example, the ladies toilets may just be the ceramic toilet bowl itself…no seat. Or there may be a newly installed bathroom but the stalls contain only a hole in the floor encased in ceramic (they had two of these in the Church of the Holy Sepulchre, along with stalls containing regular toilets). Most will have toilet paper, some not so bring a roll from home to pack in your bus tote bag (I then unravelled a few handfuls and put them in a plastic bag with some paper towels and then carried this plastic bag in my canvas crossbody bag that went everywhere with me). You'll also want to bring a lot of Kleenex tissue packs to have on hand as needed. Bring sunglasses, a hat, a scarf to cover your head at holy sites, a couple packs of Wet Ones to wipe your hands clean, a comb or brush, cough candies, lots of lip balm (you'll want this for the plane too, air is so dry!), hair ties, hand moisturizer. Water bottle & a no-spill Coffee travel mug. I brought a 25 oz stainless steel water bottle and found this was too large, next time I'll bring a 17 oz. I kept a few granola bars in the bus bag but really didn't need them. Even if it's looking nice and not rainy, pack your raincoat and sweater/vest in the bag just in case.
Camera
I decided to leave my camera at home and just use my iPhone 6 for taking pictures. Smart phones are getting better and better at photo quality and I was happy with this, though we did have a fella in our group who had professional camera equipment and I will be able to work with him to get some photos he took. I backed up my photos using iCloud and Google Photos app (both free). Here are a few examples of the iPhone photos (keep in mind I'm not a professional)…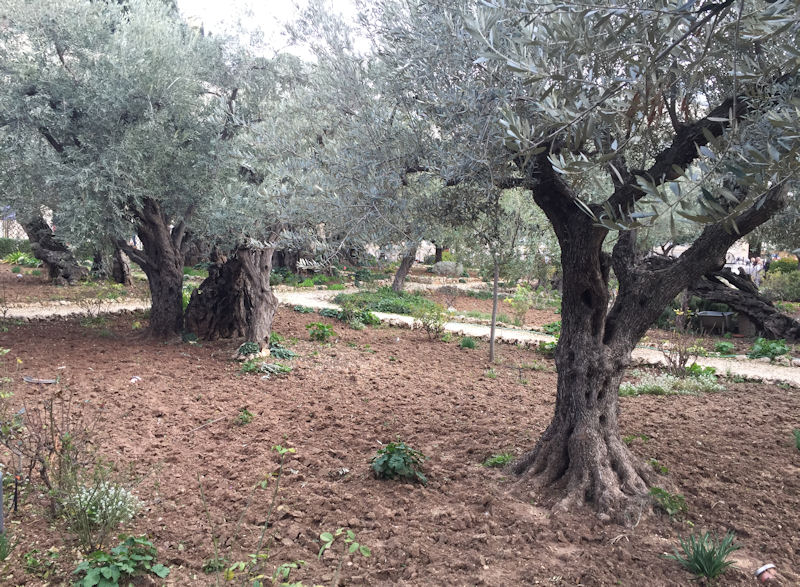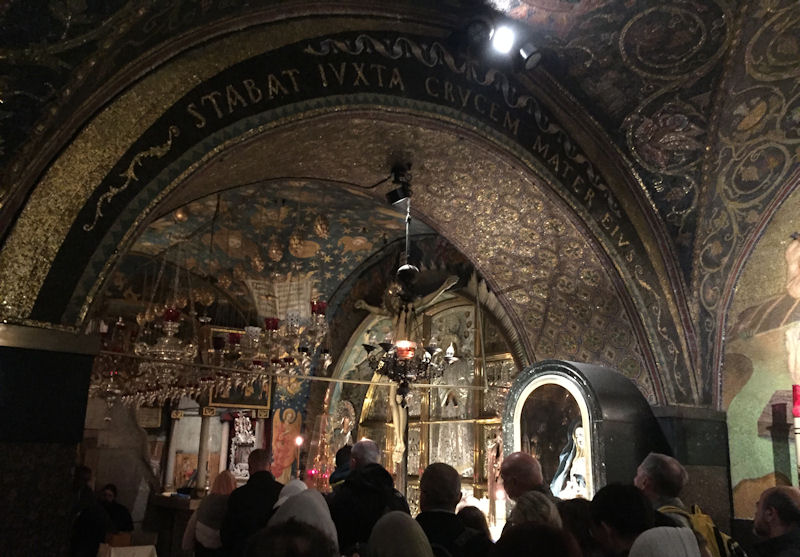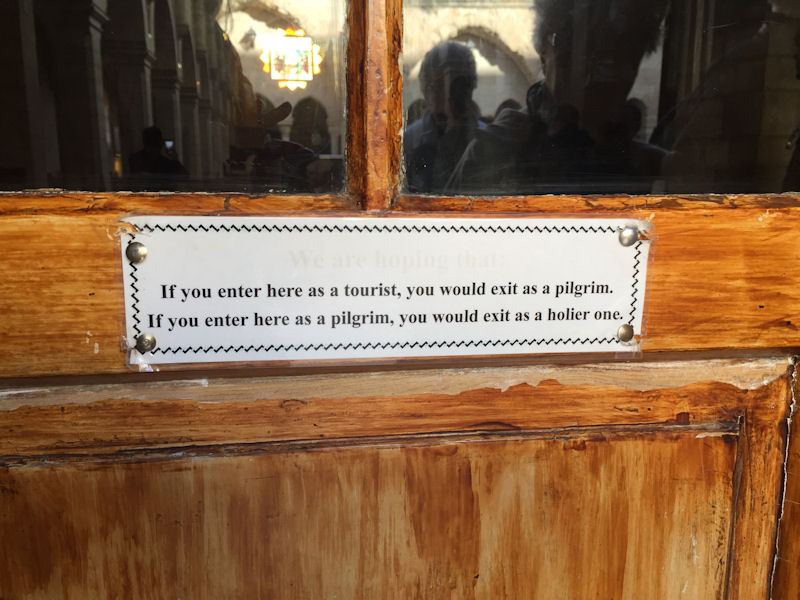 Towels
We stayed in monasteries most of the time (Rosary Sisters of Nazareth and Rosary Sisters of Jerusalem) and a hotel the last two nights (Orient Palace Hotel in Bethlehem). Our group had two people per room (double occupancy) and each place we stayed provided hand towels and bath towels for each person plus a bath mat. None of the facilities provided facecloths, which luckily I had prepared for so plan on bringing a few from home.
Dead Sea
Bring a bathing suit (check Amazon for "modest swimwear" for some ideas for ladies, anything goes for the Dead Sea though so don't worry too much about this if you're comfortable wearing high-thigh bathing suits). Also bring a pair of water/aqua shoes or an old pair of tennis shoes to wear since the ground is muddy and rocky once in the water. These will be stained so you don't want to wear your best stuff. Towels can be rented there or bring one from the Hotel. Careful when floating not to get any water in your eyes (very salty water that will sting). Also avoid shaving right before the swim and watch for fresh skin abrasions and cuts, these will sting in the salty water.
Gadget Gear
Bring your phone/tablet/camera charging cords. I just kept charging my phone on the bus so I didn't need to use a travel adapter plug (Israel's outlets are different than ours). If you want to charge things in your room, you'll need an adapter (Type H – Israel, Palestine). I didn't use a hair dryer but lent my travel dryer to a friend who needed it, just make sure to bring a dual voltage hair dryer, one that you can flip over to 220v. Bring earbuds, you can use these to plug into the wireless headset that the tour group provides (they provide an earbud, but only one ear…if you bring your iPhone/iPad earbuds, they will work and you can listen with both ears). Tip: if your double earbud set only has audio in one ear, pull the plug/jack out a tiny bit and you should now hear with both ears. I brought a power bank for iPhone/Tablet but didn't need it at all.
Rosaries
I brought two of my best rosaries and a little chaplet I made. These I carried every day and touched or placed them in spots at all the holy sites. I also sprinkled them with holy water wherever it was available. Of all the things I brought back from the Holy Land, these are my most prized.
Mantillas/Veils/Scarves
Bring your best from home to place on the Stone of Anointing at the Church of the Holy Sepulchre. Also bring extra cash to buy scarves in the bazaar/market in the Old City of Jerusalem so you can also place them on the Stone. These are lovely gifts to share with friends who couldn't join you on the pilgrimage. Tip: The deeper into the market you go (Old City Jerusalem), the cheaper the prices seem to be. Bargain for $5 U.S. each or 3 for $10 (pashmina type scarves).
Miscellaneous Items
I brought a bottle of Dr. Bronner's Magic Soap Organic Lavender Oil Pure Castile Soap Liquid, 8-Ounce, which was great for washing out the water bottle and coffee travel mug each night. It's also handy to wash laundry and other items as needed. I brought a travel clothesline which I never used, extra travel hangers (the plastic folding ones) which were handy in one of the locations since they didn't provide many clothes hangers (at least for two people). I brought a few of Ziploc Big Bags Storage with Double Zipper Large which were great for packing souvenirs and scarves but I initially packed them to use for laundry in case the sinks weren't large enough (they were, but I didn't do any laundry after all). I didn't bother packing an umbrella since a hooded rain jacket was all I needed, plus I read in several places that umbrellas were useless because of the winds that seem to accompany the rain in Israel and how clumsy they are in crowds. I brought earplugs to use for both travel and in case my roommate snored (she didn't, I did), but I never used them. I packed Sundown Naturals Melatonin, 300 mcg, to use in case I needed help sleeping in the different time zone or on flights, but didn't need them. I packed a Living With Christ (month of January) but didn't need it since we had daily votive Mass (readings and Mass were for the holy site/chapel we visited). I brought several plastic bags to pack laundry and souvenirs. I brought Nexcare waterproof tape in case I needed to tend to bandages for blisters but found the tape worked perfectly for sealing plastic caps on water bottles we filled with water from the Jordan River (note this well: bring an empty plastic water bottle or two when you visit the River, you call fill them with the water to bring home).
Beauty/Skin Care
I just brought a bottle of 2-in-1 shampoo to keep liquids to a minimum (they weigh more), plus a bar of Olay beauty soap for in the shower. Bring face, hand and body moisturizers and lip balm! I brought a couple small bottles of Listerine mouthwash which I found especially nice to use on the 10+ and 12+ hour flights to and from Tel Aviv though they came in handy throughout the trip too. Makeup remover wipes were handy though I also brought some small travel size containers of Clinique Take The Day Off Cleansing Balm (love it). Toothpaste and toothbrush (and case/holder) of course.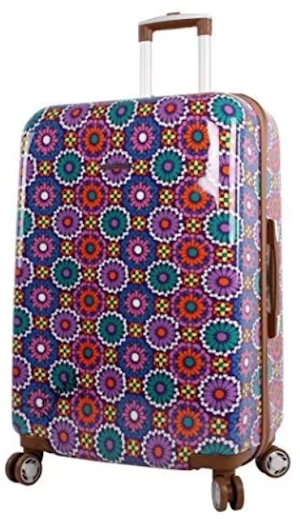 Luggage
I bought a set of nylon packing cubes that worked great for keeping things organized. I finally got smart and bought a colorful hardside suitcase (28″). The dimensions were just an inch less than the limit Air Canada allowed and since it was hardside, I didn't have to worry about stuffing it so full that there would be an expansion issue that would push the measurement over the limit (this can easily happen with softside suitcases). Since the design I chose was so colorful and unique, I was able to spot my luggage quickly at the all the airports.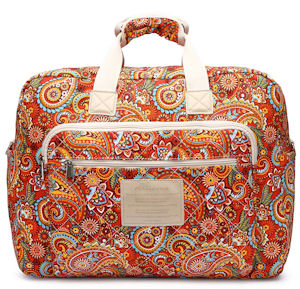 I also purchased a colorful carryon canvas duffel (Malirona Women's Canvas Overnight Weekender Bag Carry On Travel Duffel Tote Bag Bohemian Flower) and believe me, this bag did well! I surely had 30 lbs loaded in this duffel (I was putting my heaviest stuff in there on the way back to save weight in the checked suitcase) and hauled it from one side of the Tel Aviv airport to the other, and then the same again with the Toronto airport.
This bag held on with no rips or tears along the straps. The only thing I did was stuff it with a cardboard box just under the size limit allowed for carryon luggage (Air Canada) to keep its shape and prevent spread. I was able to pack this bag full and keep it just within the dimensions required.
Why so colorful? The bags are easy to spot and claim. They're even warning now about people rifling through carryon luggage on long flights looking for stuff to steal. When everyone has black bags it's easy to assume someone is digging in their own bag that is sharing the same above seat bin as you.
I also brought a black zipped bag I picked up from Winners as my personal bag that Air Canada allows, this was sized to fit underneath the seat. I kept this stocked with my flight essentials (eye mask, tablet, reading material, lip balms, etc.).
Flight Gear
Knee high compression socks are a must, they really did a great job keeping my feet/legs from getting swollen (the flights from/to Toronto are 10+ hours and then 12+ hours on the way home). I brought a wide eyemask made of comfy t-shirt material (look on Amazon for "freshme sleep mask", I chose the 100% Handmade Cotton Sleep Mask Blackout and it was perfect, even for my huge head)…a neck pillow (I brought Travelrest Ultimate Travel Pillow and loved it), a fuzzy warm shawl/poncho to double as a blanket (though I found the airplane temperature to be comfortable enough without it). I did pack earplugs but didn't use them, instead I plugged in my earbuds and listened to the Monks of Norcia chant while I prayed the whole rosary on the flight back. Passport travel wallet is also one of my must-haves.
This is pretty much it, if I remember more I'll update the information here. Hope this helps!